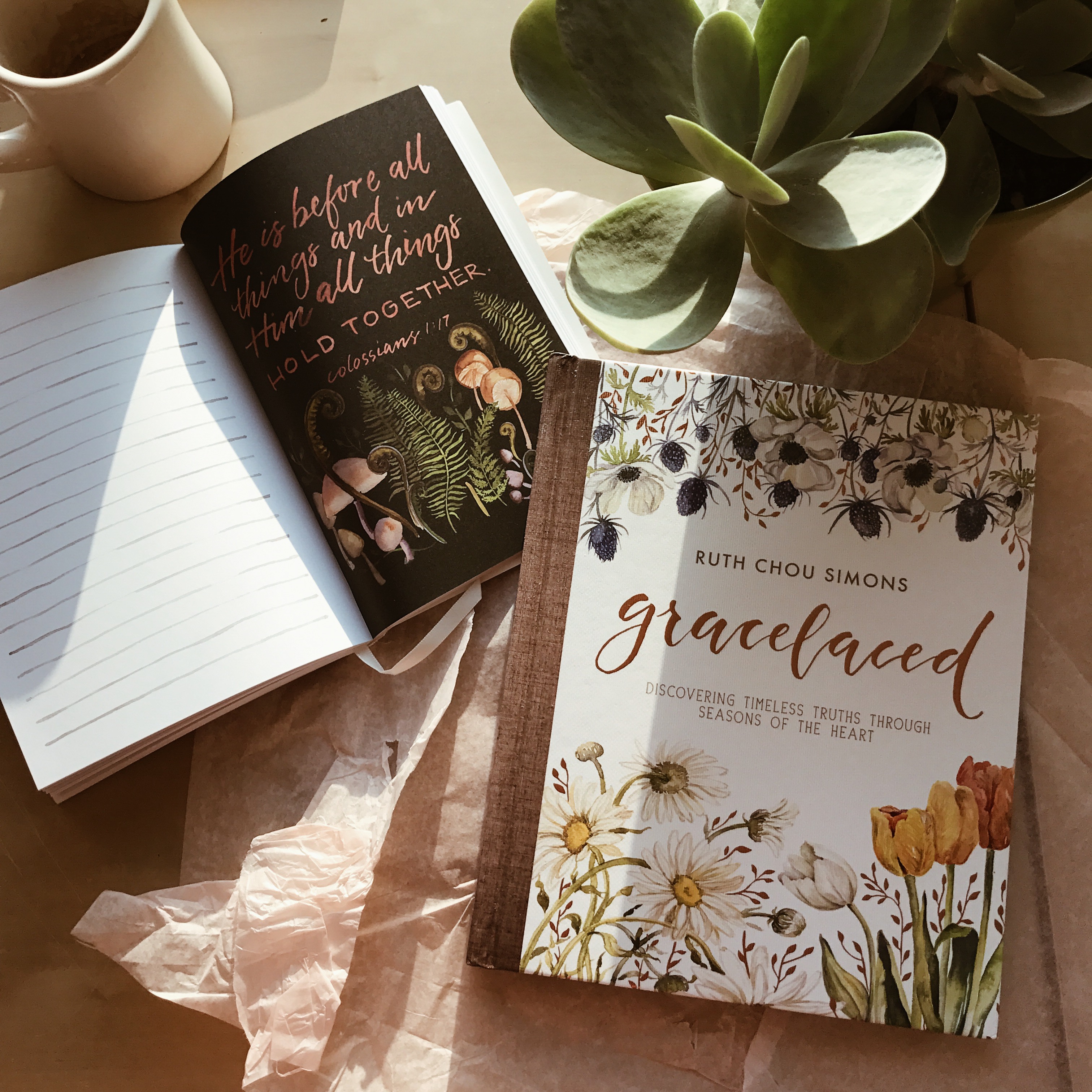 "The journey is not linear or formulaic…" – Ruth Chou Simons
This is a truth I have lived and learned well. Grief is not linear and joy is not formulaic. We can count on God's goodness and the rhythm of seasons, but we are not the Author.
I am loving the words of Ruth Chou Simon's seasonal devotions in her soon to be released Grace Laced book. The hardbound book and accompanying journal are gorgeous! They are filled with her beautiful, whimsical illustrations that create a quite, rich space to meditate and find inspiration from winter to summer and every season in between.
A few truths that have jumped out at me are the ideas of dwelling, abiding, coming and becoming. Through a season of coming to the end of myself as I am now a mother of four who has been married for fifteen years and is still trying to figure out how to walk this journey of faith, motherhood and love, I have recently felt an invitation into a space of abiding more deeply and simply in the Lord.
It feels natural to come to my heavenly Father on a quiet morning with a cup of tea in hand, but this homeschool year it will be much more difficult to come to Him when I am in the thick of things, fighting shame and feelings of failure and frustration.
It is my prayer that not only would I seek Him in stillness, but that I would lead my children boldly to His throne to receive the mercy and grace we all so desperately long for … and that I would do it most of all in our time of need. Hebrews 4:16. I am finding that writing out scripture in my journal is a way to take pause, remember and come to Him so that He can lead me forward into the becoming that He wills for me.
In Him we live and move and have our being. Acts 17:28 In Him all things hold together. Colossians 1:17
He is our essence, He is our home. And still my heart wanders and hides. Still I am pulled to fill my time with everything other than relationship and Creator.
But when I stop and come, I am found. I am made new.
Still I falter in this becoming. I fall back into shame and distrust His promised work in me because my failures loom so large some days. I love how Ruth addresses this…
"He declare us a new creation from the moment we cross from slaves to sin to free in Christ even when the into His likeness happens over time."
We are living in the right now and the not yet, the "it is finished" and the becoming a new creature. This book of devotions has been rooting me in this truth and walking with me as a friend through these seasons.
My day may feel rushed but the visuals in this book create space for my mind and soul to dwell upon the Lord, being reminded of truths I know, and falling even deeper into His love. Thank you Ruth for creating this treasure and including me in your book launch team! This will be my go-to gift for encouraging other mama hearts.
You can order GraceLaced: Discovering Timeless Truths through Seasons of the Heart before August 31st to access all the fun pre-order goodies!
And check out the GraceLaced book trailer – it's lovely!